Related Links
Full System Configuration
Is the SS51G V1.0 capable of having most ports/slot occupied as a full system?
Base on Shuttle "Full Loading" test standard, the SS51G V1.0 is tested with benchmark software for over 3 days with following installed;
Model: SS51G V1.0BIOS: fs51s038
CPU: P4 3.06GHz FSB 533MHz
Memory: A-DATA DDR400 256MB(PC3200) *2
HDD: Western Digital WD1200JB
DVD-ROM: SONY DRU-510A DVD+RW
USB device: Shuttle PC12 - USB2.0 card reader
AGP card: ATi Radeon 9800 PRO (Build by ATi)
PCI card: Hauppauge TV Tuner card
Operating System: Windows XP Pro. + Service Pack 1
Fan speed setting
How to utilize CPU Fan AutoGuardian in Bios to reduce noises in my system?
SS51G barebone has embedded in its Bios a revolutionary 3 phase Variable Fan Speed and CPU temperature Control feature, for use in conjunction with Shuttle I.C.E. heat-pipe technology especially designed for SS51G barebone. This feature is controlled via Bios, in which the CPU fan rotational speed sensing/control is governed by CPU temperature setting pre-selected in Bios.



By Bios factory default, "CPU Fan AutoGuardian" feature under PC Health Status is enabled. Shuttle SS51G barebone factory default for CPU fan cooler is set to Fan 3 as shown on the right diagram. Prior manually modifying the CPU fan settings, please make sure both fan connectors are plug into the correct fan connector designations on the mainboard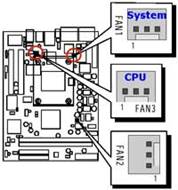 The "Fan Speed Up When CPU Temp" feature ranges from 48°C to 80°C, in an increment of 4°C. The bios default temperature is at 72°C. 1st and 2nd phase Variable Fan Speed and CPU temperature Control is as defined by "Fan Speed Up When CPU Temp". For example, if preset this setting to 72°C in bios and when actual CPU temp (reported by Bios) stays below 72°C then CPU fan speed will run at a quiet mode (1st phase) of approximately 2200 RPM.
But when the actual CPU temp goes above the pre-selected 72°C temperature threshold, then CPU fan speed will automatically engage into normal mode (2nd phase) of about 3000 RPM. Automated by the Smart Bios feature, this increase of fan rotation speed will effectively cool down the CPU temperature. And when the CPU temperature drops RPM in order to reduce fan noise level.
Fail-safe mode (3rd phase) Variable Fan Speed and CPU temperature Control is as predefined at 80°C. Where in the event of system and CPU operating under extreme working conditions, and if CPU temperature is raised above 80°C then the Smart Bios will engage the CPU fan in Fail-safe mode to rotate at about 3300 RPM. Please note that the higher the fan speed, the fan cooler will be become slightly noisier in order to compensate for the increase in CPU temperature.
| | | |
| --- | --- | --- |
| 3 Phase Fan Speed | Fan Speed | Event |
| 1st Phased | 2200 RPM | Pre-selected Temp in Bios (72°C) |
| 2nd Phase | 3000 RPM | Pre-selected Temp in Bios (72°C) |
| 3rd Phase | 3300 RPM | Fail-safe Temp (80°C) |
Fail-safe Temp (80°C) When "CPU Fan AutoGuardian" feature is "Disabled", CPU fan will run at its default speed of approximately 3300 RPM.
We strongly recommend if you wish to use other brands fan cooler please disable "CPU Fan AutoGuardian" feature, allowing the CPU fan to run at its default speed. We only recommend for CPU Fan AutoGuardian feature enabled with enclosed fan cooler from Shuttle.
TV/DVI add-on AGP card CV20
What's the maximum resolution for optional CV20 (TV-Out/DVI) add-on card to use in SS51G barebone?
SS51G barebone features SiS301MV chipset based TV-Out/DVI add-on card as an optional upgrade kit. The maximum input active resolution at PAL and NTSC system is 800x600. Because of the flexible scaling hardware, the over/under-scan (Active TV lines) modes supported by SiS301 are far beyond of these listed data below.
TV Output modes :
System

Input (Active) resolution

Active TV Lines

Over/Under Scan

NTSC

320x200

480 ~ 400

+

640x480

480 ~ 400

+

720x480

480 ~ 400

+

720x400

480 ~ 400

+

800x600

480 ~ 420

+

PAL

320x200

540 ~ 500

+

640x480

540 ~ 500

+

720x400

540 ~ 500

+

720x576

576 ~ 510

+

800x600

600 ~ 510

+
LCD Output modes :
Display Device

Input (Active) Resolution

Scaling

LCD 800x600

640x480

Yes

800x600

No

LCD 1024x768

640x480

Yes

800x600

Yes

1024x768

No

LCD 1280x1024

640x480

Yes

800x600

Yes

1024x768

Yes

1280x1024

No
When using TV-Out function, the resolution shown on TV screen is either unclear or kind of fuzzy compared to that of fine resolution shown on regular CRT monitor. Why?
The observed output resolution lies in design and feature differences between TV and CRT monitor.
In general, a 17" CRT monitor with 0.27mm dot pitch for crystal clear images, but TV only has horizontal line distance-to-distance.
CRT monitor supports high resolution output & refresh rate. But on the other hand, TV only has low scan line.
CRT monitor and TVs' Video's amplify specification is different.
What is the difference in Bios setting for Video Out between UTV and OTV?
SS51G has UTV and OTV function for use with optional upgradeable CV20 TV-Out/DVI add-on card, default is UTV/NTSC; it stands for underscan and overscan of TV-out. As you know, when enabling TV Out, the picture will not always fill the TV screen. The reason for that is that we use "underscan" if TV Out is enabled in order to make sure that all buttons, especially the ones in the corners of the screen, are fully visible. But the image out is not in full screen mode on TV. UTV is ideal for PC based environment.
There is a bios switch which enables an "overscan" mode for TV Out. This overscan mode results in absolutely no visible border on the TV. The picture coming from the PC will be larger than the picture displayed on TV. OTV is ideal for pure TV-out environment such as Karaoke entertainment or road show demonstrations.
There are some IMPORTANT points you should note:
- Some buttons (close, minimize etc.) may not be accessible if the application is in full screen mode (OTV), they are outside the visible range of the picture.
- Your PC Monitor will most likely switch OFF, because it can not support overscan (some monitor may be switched off automatically)
- The TV Out picture can NOT be adjusted, you can not use overscan and then downsize the picture so that it exactly fits the screen.
What is SPDIF?
SPDIF (Sony/Philips Digital Interface) is a standard audio transfer file format. It's usually found on digital audio equipment such as a DAT machine or audio processing device. SS51G barebone features SPDIF In/Out function. SPDIF interface allows the transfer of audio from one file to another without the conversion to and from an analog format, which could degrade the signal quality.
How to install PCI VGA card in SS51G?
Please follow these procedures to install PCI VGA card:
Boot up to Windows without PCI video card installed. Disable SiS651 display adapters in Device Manager under Windows.
Reboot and change "Init Display First" to [PCI Slot] under Integrated Peripherals in CMOS Setup Utility in Bios, then save & exit.
Shut down system and install PCI VGA card. Boot up into Windows by using PCI video card as primary display device.
Install PCI video card drivers, and reboot the system.
Enter CMOS Setup Utility during POST while rebooting, disable Onboard VGA in Bios, then save & exit.
Hardware Monitoring Tools
What temperature monitoring utilities are available? A7The following links contain freeware/shareware for CPU/System/HDD temperature monitoring utilities :
Why my copper heat-pipe has a silver finish look?
Production heat-pipe is coated with nickel metal. The nickel coating enhances the heat-pipe structure and effectively prevents copper heat-pipe from environmental surface corrosion and tarnishing. It is the nickel coating which gives the heat-pipe the silver finish look, it is not made of aluminum, nor a cost down version made of aluminum material. It is copper heat-pipe anodized with Nickel. The structural integrity and heat transfer efficiency of the copper heat-pipe is unchanged. For production heat-pipe, Shuttle made it not only look more elegant, but also structural enhanced and copper corrosion resistant.
How does Shuttle I.C.E. heat pipe technology work?
A heat pipe is a heat transfer device with an extremely high effective thermal conductivity. Heat pipe is a vacuum tight vessel which is evacuated and partially back-filled with a working fluid. Heat pipes transfer heat by the evaporation and condensation of a working fluid. As heat is input at the evaporator, fluid is vaporized, creating a pressure gradient in the pipe. This pressure gradient forces the vapor to flow along the pipe to the cooler section where it condenses, giving up its latent heat of vaporization. The working fluid is then returned to the evaporator by capillary forces developed in the porous wick structure or by gravity.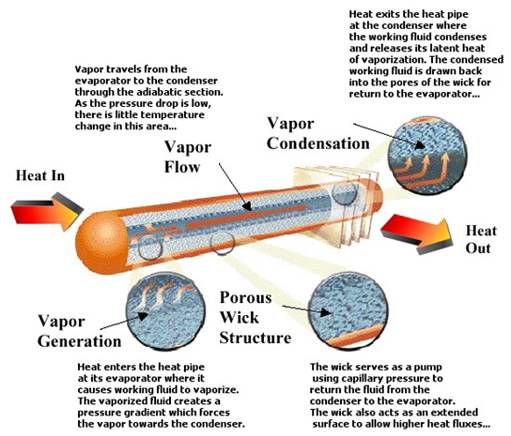 Heat pipes do not have a set thermal conductivity like solid materials due to the two-phase heat transfer. Instead, the effective thermal conductivity improves with length. Unlike solid materials, a heat pipe's effective thermal conductivity will also change with the amount of power being transferred and with the evaporator and condenser sizes. For a well designed heat pipe, effective thermal conductivity can range from 10 to 10,000 times the effective thermal conductivity of copper depending on the length of the heat pipe.
How does Shuttle I.C.E. heat pipe technology overcome the noise and heat concerns commonly faced with P4 fan heatsink coolers?
Shuttle I.C.E. heat pipe is equipped with aluminum heatsink with copper base to quickly adsorbed and effectively transfer the heat generated from the CPU through the special designed copper heat pipe up to the thin fins, where the heat is then being cooled down by 8cm, low RPM noise-reduced fan.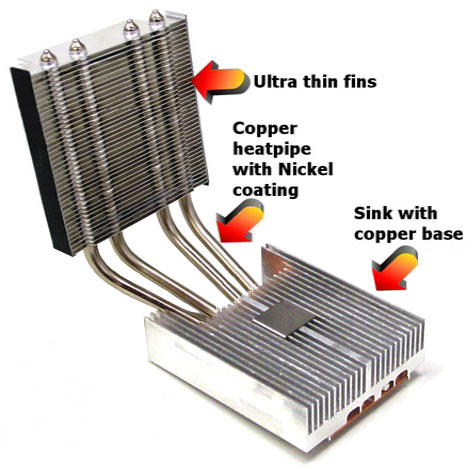 This 8cm, low RPM noise-reduced fan blows the hot air out of the system through the back panel, leaving the entire system not only cool, but very quiet when compared to other noisy Socket A fan heatsink coolers on the market.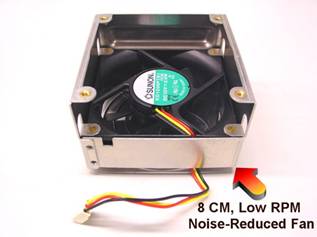 Use in conjunction with CPU Fan AutoGuardian feature (default enabled) in Bios. The cooler fan can stay at an ultra quiet mode of about 2200 RPM, and yet still outperforms other noisy tornado-like fan heatsink coolers.