Toms Hardwareguide
Ein THG-Leser schreibt in einem 14-seitigen Report darüber, wie er ein Wunsch-TV-Gerät auf Basis eines Shuttle XPC SS51G zusammenbaut...
www.tomshardware.com/...
9. Nov. 2002

Der zerlegte XPC: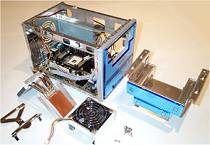 Die benötigten Teile: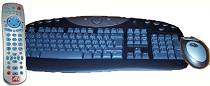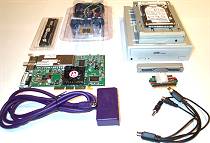 Some quotations (English):
Reader How Tos: Build a PC for TV
Arild Skullerud talks about his experiences building a PC for his living room. Can a PC combine the features of a digital VCR, MP3 server, and Internet TV? Sure it can, but at what cost? (...) we now have a living room spacious enough for a large television and surround sound system for audio and video. Now, the question is, what do I buy? The market is flooded with audio video receivers of every kind for nearly every budget. (...) So, I set out looking for an affordable, compact, quiet and good looking PC case that would fit into the configuration of my living room. My favorite retailer had a large selection of cases (...) However, these wonderful boxes were much too large. I wanted something in the Micro-ATX form factor, which quickly limited my options. But there are a few... The Chieftech Flex-Net is good looking, but it only has a 145W PSU, and it looked too much like a standard PC. The In-Wins Micro-ATX IW-T515 is fairly ornate, but a bit too strange looking for my living room. Then, there are the Shuttle SS40 and SS51G, and after seeing these two cases, the choice was simple. They are very similar in functionality. The SS40 has a built-in TV-out (800x600), and runs DDR266 memory with an Athlon CPU. The SS51G, in addition to the foregoing, has USB 2.0 and an AGP slot, but no TV-out (optional add-on card), and runs DDR333 memory. Both sport a 100Mbit LAN connection. The AGP slot appealed to me, so I chose the SS51G. (...) If you decide to build your own system, do some homework by reading about what is available. Make sure you get the outputs and PCI/ AGP slots that are compatible and what you want. Also, make sure your motherboard is at least USB 2.0, as there will be loads of add-ons available soon for USB 2.0. For example, you may need your drive bay for only a Creative Live! Drive to remotely access your MP3 files. (...) One PCI slot, an AGP slot, Firewire, USB 2.0, 5.1 channel audio with SPDIF in/ out and 100Mbit LAN should be enough to meet my needs, and it looks good compared to the other alternatives. Chieftech Flex-Net and In-Win offerings. These were the other Case choices. My girlfriend responded to these with a resounding "NO!" (...)
Conclusion: First, I must say that if you want a multimedia box in your living room, this is a good solution. For the 'low' price of #1199, you can get an incredible range of functions and features that you can control from your couch. It is a silent, high performance multimedia platform. (...) It took me about three to four hours to physically build the system, but it took me many hours to install Windows and all applications and to shake out all the 'bugs' in the system. (...) if you trim away all the 'extras,' you can still have a high performance system for #850 with a 2.4Ghz P4 and 256MB CAS 2.0 DDR333 memory, and retain most of the features. Look through the PriceGrabber further, cut the CPU speed and hard disk requirements, and you'll end up under #800. Good luck, and happy building!