Will My XPC Run Cooler With The Case Off?
Due to the XPC's small footprint design, the thermal dynamics are very different than that of a regular full-size PC. Whilst normal PCs may run cooler with the case off, the XPC has strikingly unique properties.
Our design team has carefully considered and tested the thermal properties of an open case XPC. Contrary to popular beliefs, the CPU, hard drive and mainboard temperatures are higher when the case is taken off of the XPC. Opening the case actually reduces the airflow through the case. The vents at the front of your XPC no longer take air in; therefore, the airflow around the PWM and MOSFET is significantly reduced.
We recommend leaving the aluminum case closed on the XPC when in operation. Not only will this improve the thermal dynamics of your XPC, it looks stunning as well!
Does My Mainboard/XPC Support Linux?
Currently Shuttle's SB75G2, SB62G2, SK41G and SS51G have been tested compatible with MandrakeSoft Linux. However, since Linux is an "open source" operating system; most drivers will be written/provided by 3rd parties.
As we are continuing our efforts to have every latest models tested against Linux compatibility; please keep in mind that not all features/functions/drivers are supported at this time.
Please search the Internet or visit the chipset vendors' web sites for any new available drivers. Thank you for your understanding as we continue to push for better Linux implementation and support in the future.
How Do I Overclock?
No information on overclocking shall be provided here. Please beware that the act of overclocking your sysem is considered as an abnormal behavior to the CPU, memory and mainboard. Overclocking may damage and/or significantly reduce the life of your CPU, mainboard, and/or other peripherals (devices) in your system. As a result, we DO NOT recommend users to engage in such activity.
How Can I Get Windows XP to Support USB 2.0?
Please follow the steps that listed below:
Step 1:
Please go to "Windows Update" (http://windowsupdate.microsoft.com) to install Microsoft USB 2.0 Host Controller Driver or install Windows XP Service Pack 1.
Step 2:
Open "Device Manager" and open the properties of the USB 2.0 host controller. Then update the controller driver. (System will automatically search USB2.0 driver and install it.)
Shuttle CPU Proof Technology
This technology (supported by Socket A products like SS40G, SK41G, SK43G, AK37GTR and others) is specially designed for AMD Athlon XP. When the CPU's temperature is raised over the default threshold in just a few seconds, a signal will be sent to automatically shut down the system immediately (< 0.1ms).
Reliable controlled
by Hardware,
not Software !
Which Mainboards support Hyper-Threading
The BIOS setting for Hyper-Threading must be enabled: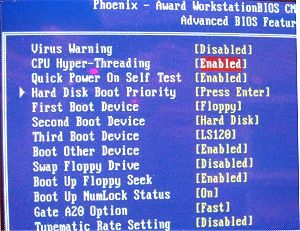 Then you can see two logical CPUs in the device manager: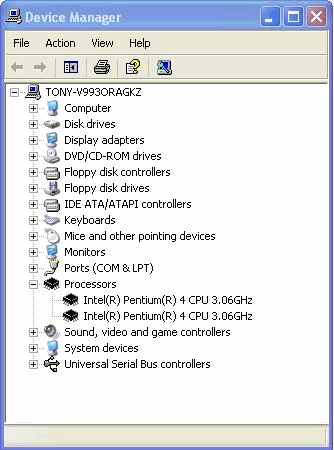 Read more at Intel.
| | |
| --- | --- |
| Navigation | |