Regarding Overclocking
When I tried to overclock the system, some onboard devices failed to work. What could be the cause of the problem?
For example, onboard Realtek ALC650 audio chipset is referenced to CPU host clock frequencies, it is most likely that the audio device will not function normally when you try to overclock beyond its chipset hardware specification operating frequencies. After recheck, if the problem arises due to overclocking please revert back to the original Bios default setting, and increase/fine-tune the CPU FSB and memory timings a little at a time. Enter Windows OS and test for stability and check onboard functions. It is recommended that if you want a stable 'n' quiet system then don't overclock and don't use aggressive Bios and memory setting. Clear CMOS data by hardware jumper is always a good option should you overclock too much and system fails to start up. Once the above issue is eliminated, but if front panel IEEE 1394 firewire, SPDIF in/out, USB, audio devices still fails to work, please check if the internal cables are connected properly. Internal cables linked from the front panel to the onboard headers may become loose or being pull off, if special care is not taken during installation of memory, IDE cables, or PCI devices.
How to use USB keyboard on the SS51G (FS51 V1.x)?
If you used USB keyboard on the DOS mode or Windows NT, please enables the item of "USB keyboard support" in BIOS setting (COMS Setup Utility). Else if you used it on the Windows98/ME/2000/XP, please disables the item of "USB keyboard support" at BIOS setting (COMS Setup Utility). This process is following Microsoft release information.
How to identify your onboard LPT pin-out on SS51G?
Pins Assignment:

USB-1
1=+5V
3=USBD0-
5=USBD0+
7=GND
9= N/A
USB-2
2=+5V
4=USBD1-
6=USBD1+
8=GND
10= KEY
How to identify your Onboard USB pin-out on SS51G ?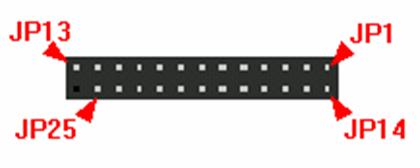 Ext. Print Port (JP11)

1

PSTB

10

P_-ACK

19

GND

2

PPPD0

11

P_BUSY

20

GND

3

PPPD1

12

P_PE

21

GND

4

PPPD2

13

P_SLCT

22

GND

5

PPPD3

14

PAUTOFD

23

GND

6

PPPD4

15

P_-ERR

24

GND

7

PPPD5

16

PINIT

25

GND

8

PPPD6

17

PSLCTIN

26

KEY

9

PPPD7

18

GND
Increase IDE performance
Audio software problems?
When I use Advance Sound Manager's Realtek AP (AvRack) under programs file to play VCD, then my system hang. How can it be solved?
1. Please download this Realtek AP patch file.
2. After that, please unzip the patch file and find the following location:
In Windows operating system: please go to my computer => Local Disk (Ex: C:\) => Program Files (Ex: C:\Program Files) => AvRack (Ex: C:\Program Files\AvRack)
3. Finally, move (copy) the new AP patch file into the AvRack folder. Click "Yes" when the message box asks overwrite (replace) the original file.
Why my system can't run DirectX9 game?