Path: Home

Products

XPC

SB62G2

Download
XPC SB62G2

Mini aluminum barebone-system
Application range: as a High-End Workstation or Server
Socket 478 supports 400/533/800FSB and Hyper-Threading
Chipset: Intel 865G / ICH5R
Low noise with ICE-Heatpipe-Cooling
Two network connectors: 100/10 MBit and 100/10 MBit
1x AGP (8X), 1x PCI, 2x DDR400/333/266/200, 8x USB 2.0
6-Channel audio with SPDIF-out
Download SB62G2 (FB62)
Frequently asked questions
Related Links
What is an example full system XPC SB62G2?
An example XPC SB62G2 full system is listed below. This full system has been tested according to Shuttle's "Full Loading" test standard. With the following components installed, the XPC SB62G2 continuously runs benchmarking software for over three days.
Model: SB62G2BIOS: fb62s00h
CPU: P4 3.4GHz FSB 800MHz
Memory: Kingston DDR400 (PC 3200) 1GB * 2
HDD: WD Raptor WD360 SATA 10,000rpm
DVD-ROM: SONY DRU-510A DVD+RW
USB device: Shuttle PC12 - USB2.0 card reader
AGP card: ATi Radeon 9800 XT (Build by ATi)
PCI card: WinFast TV2000 TV Tuner card
Operating System: Windows XP Pro. + Service Pack 1
Why won't my system boot after overclocking CPU Clock?
When overclocking the CPU FSB Clock, the memory frequency will also overclock at the same time. When overclocking make sure that you set the memory frequency to lower level, such that increases in FSB keep the memory frequency in a stable range. First deselect [Auto] for the "Memory Frequency For" as shown below. Try to set memory frequency to a lower level (ex. DDR 266 / 333).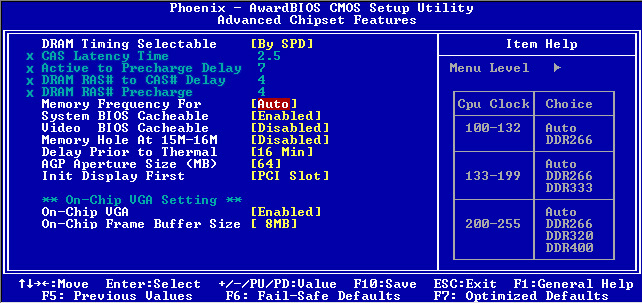 What should I do when I encounter issues using Mandrake 9.1?


Print version of this page: http://eu.shuttle.com/sb62g2_faq.htm
Shuttle Computer - European Headquarters - All rights reserved - Date: 30.4.2008