Standard version (silver), XIB-Version (black)

Mini aluminum barebone-system
Socket 478 supports 400/533/800FSB and Hyper-Threading
Chipset: ATI Radeon 9100 IGP (RS300), IXP 150
Low noise by ICE-Heatpipe cooling and quite power supply
2x Serial-ATA Raid (0,1), 10/100 network (RJ45)
1x AGP (4X/8X), 1x PCI, 2x DDR400/333/266/200, 6x USB 2.0
6-channel-audio with SPDIF in/out
6 in 1 Card Reader (CF I/II, MMC, MS, SD, SM)
S-Video out (NTSC/PAL), FireWire 400
New: Prescott support since BOM version 14




Frequently asked questions (FAQ)
Subchapters: Related Links | Versions | Hardware compatibility | OS with Serial-ATA | Different Settings | Install on Drive C: | Slots/Ports occupied | Card Reader Cable | System hang |
What's the different between Automatic, Manual Online and Manual Offline settings for RAID1 in RAID Configuration Utility?
This is an application note for customers who want to configure a Raid 1 mirror using any Silicon Image storage product on a system with an existing OS and file system installed on their machine.
The "auto configuration" utility provided in our software is intended for users who are going to format the drive or do a fresh installation. When using this auto-configuration, the BIOS will only mark both drives as Raid 1 and identical without copying the data.
The "Manual Online" utility provide in RAID Configuration Utility is intended to scan and copy the difference of data in the background of operating system.
The "Manual Offline" utility provide in RAID Configuration Utility is intend to rebuild RAIDSet manually.
More information can be found at http://www.siliconimage.com/home.asp
Why won't my operating system install onto the C: Drive?
This could be due to the internal card reader using the "C" drive title (and D, E F). Since the card reader is pre-installed, it has automatically been allocated the first 4 letters (starting from C). Try these solutions to install your operating system onto the C drive and avoid such issues:
Remove the card reader cable before install operating system.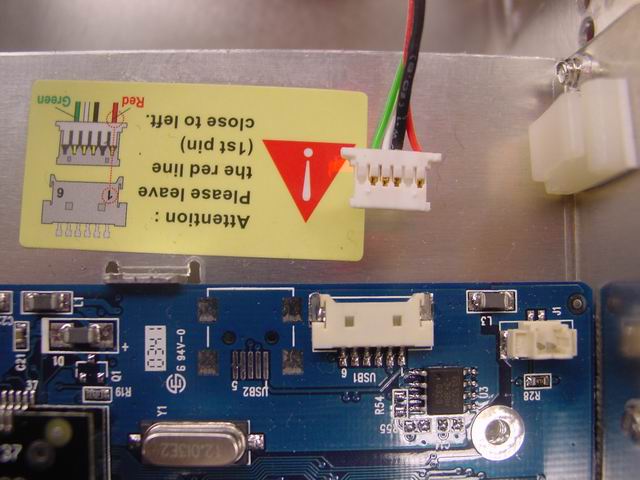 Plug-in the card reader cable after install motherboard driver. 
Does the ST61G4 perform with most ports/slot occupied, i.e. a full system?
Based on Shuttle "Full Loading" test standard, the ST61G4 has been tested with benchmark software for over 3 days with following installed;
Model: ST61G4BIOS: ft61s00t
CPU: P4 3.4GHz FSB 800MHz
Memory: A-DATA DDR400 (PC 3200) 512MB * 2
HDD: WD Raptor WD360 SATA 10,000rpm
DVD-ROM: SONY DRU-510A DVD+RW
USB device: ST61G4 USB2.0 card reader
AGP card: ATI Radeon 9800 XT (Build by ATI)
PCI card: WinFast TV2000 TV Tuner card
Operating System: Windows XP Pro. + Service Pack 1
How come my card reader cable will not reach USB card reader header?
The reason that cable won't reach the card reader is that the cable has been held into place by a cable tie. Simply cut the cable tie to resolve this issue. You may refer the below pictures for reference. 
How come when installing WinXP on a Hitachi HDS722580VLSA80 SATA HDD, the system hangs when formating?
You will need to install a beta Silicon Image chipset driver to solve this issue. You can find the link on our FTP site.
| | |
| --- | --- |
| Navigation | |