Path: Home

Products

XPC

Accessory

W-LAN/Bluetooth

Wireless LAN PN15

Download
XPC Wireless LAN Module, 54 MBit/s (PN15)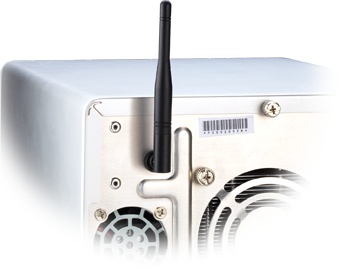 Specification: Wireless LAN Module PN15

Compliant with
IEEE802.11g
Interface
USB 2.0 (for onboard connector)
Dimensions
25 (W) x 60 (L) x 4.3 (H) mm
Weight
7.5g
Operating Voltage
5V
Current
22 ~ 500 mA
Data Rate
1 ~ 54 Mbps
Transmit Power
Typ. 12 dBm @ Nominal Temperature Range
Receive Sensitivity
11 Mbps @ -82 dBm, Typical
Securitiy
64/128 bit WEP/WPA
Antenna
Two GSC Type RF Connector
Supplied Driver
Windows 98SE/ME/2K/XP
Media Access Protocol
CSMA/CA with ACK
Temperature Range
0-65° C operating
Humidity
Max. 95% Non-condensing
Operating Range
Open Space: ut to 400m; Indoor: Up to 100m
Management Utility
Link Configuration for network join and diagnostics
Accessories
2x USB Cable, Antenna, Antenna Signal Cable,
4x Screws, Converter Board
Compatible with
SK41G, SK43G, SN41G2, SN41G2V2, SN45G, SN85G4, SB51G, SB52G2, SB61G2, SB62G2, SB65G2, SB75G2, ST61G4 ST62K, SS56G, SS56L and SS51G V2.0
Links concerning this chapter:
Download PN15
Press reviews of WLAN module PN15
Walibe.com: 4.5 out of 5 +++ a must-buy product

Walibe.com
www.walibe.com/...
27. Juni 2004
So does the pn15 live up to its job? yes. Its a nice compact wireless adapter that provides a good solid network connection without the need to take up the precious pci slot on your shuttle. Installation is pretty quick, setup is easy. Overall i'd give this product 8/10 and say its a must-buy for anyone with a shuttle and a wireless network.


Print version of this page: http://eu.shuttle.com/pn15.htm
Shuttle Computer - European Headquarters - All rights reserved - Date: 30.4.2008