2019-11-07
Shuttle redesigns fanless 1.3-litre PCs based on Whiskey Lake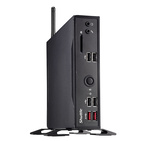 Elmshorn, Germany, 11/07/2019 - The XPC slim model series has a new member. With the DS10 range, Shuttle now presents four slender, fanless barebones with a robust steel chassis and a variety of connection options. The available processors can handle different requirements from the energy-saving dual-core Intel Celeron through to the powerful i7 quad-core model.
- Two 4K-capable monitor connections
- WLAN-ac with 5 GHz, Bluetooth and external antennas
- Continuous 24/7 operation possible
As the successor to the DS77 series, the DS10U, DS10U3, DS10U5 and DS10U7 models are now being added to the product range of 1.3-litre PCs.
DS10U: Celeron 4205U (2 MB cache, 1.80 GHz, 2 cores, 2 threads), Intel UHD Graphics 610, 4× USB 3.1 Gen 1 (5 Gbit/s)
DS10U3: Core i3-8145U (4 MB cache, up to 3.90 GHz, 2 cores, 4 threads), Intel UHD Graphics 620, 4× USB 3.1 Gen 2 (10 Gbit/s)
DS10U5: Core i5-8265U (6 MB cache, up to 3.90 GHz, 4 cores, 8 threads), Intel UHD Graphics 620, 4× USB 3.1 Gen 2 (10 Gbit/s)
DS10U7: Core i7-8565U (8 MB cache, up to 4.60 GHz, 4 cores, 8 threads), Intel UHD Graphics 620, 4× USB 3.1 Gen 2 (10 Gbit/s)
All DS10 models are completely fanless and operate without any noise. At the same time, they are very low-maintenance, because the passive cooling means that less dust gets inside them. This is why the DS10 range is also particularly suitable for constant 24/7 operation in adverse ambient conditions.
The robust steel chassis measuring 20 × 16.5 × 3.95 cm (LWH) provides space for one 2.5-inch drive in the form of a hard disk or SSD as well as two SO-DIMM slots which can accommodate a total of up to 32 GB of DDR4 memory. An M.2-2280 slot is available for fast NVMe drives. The second M.2 slot is equipped with a WLAN/Bluetooth module which transmits and receives data using two external antennas.
An HDMI 2.0a and a DisplayPort 1.2 connection enable the fluent playback of 4K Ultra-HD content with 60 images per second; an analogue VGA output is also available. Compared to the DS77 range, the audio ports can now be found on the front. The COM ports have moved to the back and created space for two more USB ports. From the DS10U3, four ports with USB 3.1 Gen 2 (10 Gbit/s) are in fact available. The finishing touches are 2× Intel Gigabit Ethernet, a card reader, audio and a port for an external power button which can be used to start the device remotely (e.g. if a fixed installation is difficult to access).
"Compactness and robustness, coupled with a variety of connection options, once again make the DS10 range ideal for professional applications such as digital signage, POI/POS, control and office use," explains Tom Seiffert, Head of Marketing & PR at Shuttle Computer Handels GmbH. "The particularly powerful versions U5 and U7 with quad-core processor and up to eight threads even perform well as a server or mobile workstation."
The operating position is similarly flexible - all models can be operated either standing upright with the supplied stands or can be mounted on suitable surfaces and to monitors using the VESA mount which is included as well.
Accessories that are optionally available include the connecting cable for the external power button (CXP01), a DIN rail mounting kit (DIR01), a 19" 2U rack mount kit (PRM01), an LTE adapter kit for the 2.5" bay (WWN03) and a COM port adapter (PCP21) which substitutes the VGA port for a second COM port.
The recommended retail price from Shuttle for the DS10U is EUR 239.00, the DS10U3 sells for EUR 448.00, the DS10U5 has a price tag of EUR 556.00 and the DS10U7 costs EUR 712.00 (each ex VAT). All models listed here are available from specialist retailers Europe-wide as of now.
---