2019-05-01
Shuttle XPC cubes with Intel H370 chipset for sophisticated users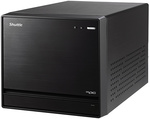 Elmshorn, Germany, 01/05/2019 – Shuttle's successful XPC cubes model series gets another boost. Three different devices based on Intel's versatile H370 chipset are available right now. This means, that all current Intel Core processors of the 8th and 9th "Coffee Lake" generation are supported, including the top Core i9-9900K model with eight cores and 16 threads.
| | | |
| --- | --- | --- |
| The latest model in the Shuttle range features a stylish 13.6-litre aluminium chassis. Despite its compact dimensions, it accommodates four 3.5" hard disks as well as an M.2-NVMe SSD and thus is able to provide a total memory capacity of up to 58 TB (as of May 2019) to meet a wide range of requirements. The combination with the latest Intel Core processors, up to 64 GB of DDR4 memory, a dual-slot PCI Express graphics card such as the NVIDIA Geforce RTX 2080 and the 500 W power supply unit take it to new performance levels. HDMI 2.0, 2x DisplayPort as well as Dual Gigabit LAN and the latest USB 3.1 (2nd-gen) ports give you the flexibility you want. Whether you use it for professional applications or sophisticated gaming, the R8 format offers maximum performance and features. | | |
| | | |
| --- | --- | --- |
| Genauso leistungsstark und vielseitig, aber mit leicht verändertem Design, bietet dieses Modell seine ganz eigenen Vorteile. Das R6-Format mit einem Volumen von 13,6 Litern erlaubt den Einbau eines optischen 5,25"-Laufwerks sowie jeweils eines internen und externen 3,5"-Laufwerks. Mit Ausnahme des 300-W-Netzteils und des Gigabit-Netzwerk-Controllers, entsprechen die Leistungsmerkmale weitestgehend jenen des SH370R8. | | |
| | | |
| --- | --- | --- |
| For particularly demanding applications, the SH370R6 is also available with a 500 Watt, 80-PLUS-Silver-certified power supply unit. This makes it possible to use powerful graphics cards with a higher level of power consumption. | | |

The recommended retail price from Shuttle for the XPC Barebone SH370R8 is EUR 317.00, the XPC Barebone SH370R6 sells for EUR 261.00 and the XPC Barebone SH370R6 Plus costs EUR 288.00 (each ex VAT). All models listed here are immediately available from specialist retailers Europe-wide.
SH370R8

SH370R6

SH370R6 Plus

Chassis design

R8

R6

R6

Supported drives

4x 3,5"
1x NVMe-SSD

2x 3,5", 1x 5,25"
1x NVMe-SSD

2x 3,5", 1x 5,25"
1x NVMe-SSD

Network

2x Gigabit Ethernet

1x Gigabit Ethernet

1x Gigabit Ethernet

Cooling system

Heatpipe with active speed control

Additional fan for the built-in drives

Heatpipe with active speed control

Heatpipe with active speed control

Power supply unit

500 Watt

300 Watt

500 Watt
---