2015-10-22
Shuttle makes 3-litre PC XH170V ready for Intel Skylake processors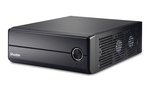 Elmshorn, Germany, 2015-10-22 - The sixth generation of Intel Core processors is now supported by a compact 3-litre Mini-PC. The new barebone model goes by the name of XPC slim XH170V and is based on Intelís H170 chipset.
- Slim design provides space for three drives and M.2-SSD
- Three 4K-compatible monitor connectors
"3-litre PCs have for a long time represented a really serious alternative to conventional PCs," says Tom Seiffert, Head of Marketing & PR at Shuttle Computer Handels GmbH. "Increasingly, they are matching larger PCs in terms of processor, memory and drive support, and in many scenarios the improved integrated graphics function makes dedicated graphics cards obsolete."
With a height of just 72 mm, the XH170V can be operated in various positions, either lying flat, installed upright with a stand, or fitted behind monitors and to any suitable surface with a VESA-compatible mount. Its black steel chassis can accommodate two 2.5" drives plus one slimline drive, or alternatively three 2.5" drives. All connectors and the bay for the optical drive on the front of the machine are elegantly concealed behind high-gloss drive doors.
Further technical highlights include support of many Intel Celeron, Pentium and Core processors for socket LGA1151 (up to 65 Watt of TDP) and up to 16 GB DDR3L memory split between two slots. The mainboard offers an M.2 slot (e.g. for SATA-SSDs), a Mini-PCI-Express x1 2.0 slot (e.g. for a WLAN module) and three SATA connectors with 6 Gbit/s and RAID. Additionally, the front and rear of the machine reveal 4x USB 3.0, 4x USB 2.0, eSATA, RS-232, Gigabit Ethernet, 2x DisplayPort and HDMI.
The DisplayPort and HDMI monitor connectors are suitable for parallel control of the latest high-resolution screens. With a Core i3 processor or higher installed, these ports allow for 4K monitors to run at 60 Hz (on DP) and 30 Hz (on HDMI).
The recommended retail price for the Shuttle XH170V Barebone is EUR 224.00 (ex VAT). At the time of publication of this press release the specified model is available from specialist retailers Europe-wide.
Optional accessories include a WLAN module (WLN-S), mounting frame for 3.5" hard disks (PHD4), VESA mount (PV02) and stand (PS01).
---