2014-03-27
Shuttle delivers 43 mm thin robust Slim PC for LGA1150 processors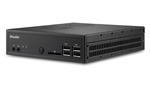 Elmshorn, Germany, 2014-03-27. Shuttle Computer Handels GmbH, the European subsidiary of Shuttle Inc., one of the leading developers and manufacturers of compact PC solutions such as the world-renowned XPC Mini PC Barebones, starts delivery today of its new Slim PC for the latest Intel processors. With the Shuttle Barebone DS81, the company is launching a robust and powerful platform that measures just 43 mm in height.
- 4K-compatible with DisplayPort and Intel HD graphics
- Approved for operation at ambient temperatures of 0-50 °C
The special feature of this machine is its compatibility with fourth-generation Intel Core processors (former codename: Haswell) with LGA1150. Nearly all models, from the low-cost Celeron to the large Core i7, are supported (TDP max. 65 W). The Intel H81 chipset is used on the motherboard. For the first time, two DisplayPort connectors and a HDMI connector are available. The increased performance of the integrated graphics built right in to the new processors even enables playback of 4K content.
"The robust DS81 attracted a great deal of attention at CeBIT," reports Tom Seiffert, Head of Marketing & PR at Shuttle Computer Handels GmbH. "The reliability of the model even at ambient temperatures up to 50 °C and under full load was clearly demonstrated live in Hannover."
To deal with special networking applications, the DS81 has 2x Gigabit Ethernet and also offers two serial RS-232 interfaces for device control (1x switchable to RS-422/RS-485). Also on the rear panel is a "remote Power-On" connector to which a separate button can be connected to turn on the machine. If the user wants the DS81 to switch on automatically as soon as it is connected to a power source, an "Always-On" jumper can be found on the mainboard.
In addition to powerful processors, up to 16 GB DDR3 memory and an internal 2.5" drive (SSD/HDD) with SATA 6 Gbit/s can be fitted in the DS81. Two Mini-PCI Express expansion slots are available for additional cards, e.g. Wireless LAN or mSATA-SSD. On the front panel of the machine is a card reader for SD memory cards. A total of eight USB ports (both USB 3.0 and USB 2.0) are available at the front and rear of the machine.
The DS81 can be operated horizontally or vertically. The machine comes supplied with a VESA mount for installation to monitors or walls. In addition, it also has numerous M3 threaded holes for custom fixing concepts.
A short product film presents 360° views of the new model, and also offers a glance inside: http://youtu.be/ClCB9Dl00b4
The recommended price for the Shuttle DS81 is EUR 179.00 (ex VAT). The machine shown here is available on the market now.
Optional accessory: Wi-Fi module (WLN-S) with two antennas.
---