2019-10-29
New mounting accessory expands areas of application of the XPC slim models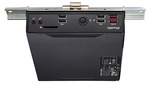 With the XPC accessory DIR01 lots of models from the XPC slim series can now be fixed on a DIN rail and thus be used in switch cabinets and distribution boxes.
The XPC accessory DIR01 is an assembly kit consisting of a 1.5 mm thick stainless steel plate measuring 164 x 134 x 7 mm (WHD), a bracket with a clip mechanism and four countersunk-head screws. The DIR01 allows Shuttle Barebones from the XPC slim range in a 1.3-litre format, with and without a fan, to be mounted easily and securely on a 35 mm standard top-hat rail.
Besides the DIR01, Shuttle also offers other mounting solutions. The PRM01 accessory permits the installation of two XPC slim in a 19" rack on 2U. With the PV02 and PV04 accessories, both 3-litre and 1-litre models from the XPC slim range can be fixed on walls, surfaces, an arm mount or behind the monitor.
All products are now available from specialist retailers. The DIR01 costs EUR 25 ex VAT.
---