Path: Home

Products

XPC

Accessory

USB-Card

Specification
USB 2.0 PCI-Card (CV18)

Internal Order Number HOT-CV18
Especially suited for XPCs that do not feature USB 2.0: SV24, SV25, SS50
This card is included within delivery of SS40G (Bulk-Version).
All the newer XPCs (with AGP-slot) have USB 2.0 onboard and do not need the card CV18 for that reason.
Specification
PCI-Card with USB 2.0 controller
2x USB 2.0-outputs on the back panel
2x USB 2.0-connectors onboard
for a slot-adapter KB-1093
All connectors USB 1.1 compatible
Supports connecting and disconnecting of USB-devices during operation
Conforming to USB Spec Rev 2.0, Enhanced Host Controller Interface Spec Rev 0.95, Universal Host Controller Interface Spec Rev 1.1, PCI-Bus Power Management Interface Spec Release 1.1
Delivery Content:
CV18 USB/PCI-Card
5V Standby-Cable
Manual
Driver-CDROM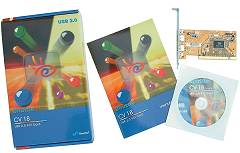 Links concerning this chapter:
Jumper-Configuration
Before installation, please configure jumper J3 and J4 as requested. It serves to select the source of the standby-voltage: Therefore you can choose between the 5VSB-line of the PCI-Bus and the WOL-connector (Wake-on-LAN) of the mainboard. The included cable helps you to create a connection between J1 of the USB/PCI-card and the WOL-connector of the mainboard. According to the PCI-Bus Power Management Specification 1.1, the computer can be switched on via your USB-device (theoretically), because CV18 passes a "wake-up" signal via the wake-on-PCI-function to the mainboard. Unfortunately, it does not work in practise frequently.
Jumper-configuration for 5V-standby-voltage
J3 for back panel connectors (USB 1+2), J4 for onboard connectors (USB 3+4)
Position 1-2: standby-voltage via PCI-Bus
Position 2-3: standby-voltage via WOL-connector
Download CV18


Print version of this page: http://eu.shuttle.com/cv18.htm
Shuttle Computer - European Headquarters - All rights reserved - Date: 30.4.2008